ENGAGING PARENTS & THE COMMUNITY
All parents should have the knowledge and power required to make important decisions about their children's education. CREEED is working to involve more El Pasoans in efforts to improve student performance and to help parents learn about El Paso schools.
Empowering parents to strengthen
El Paso's education system
Parents and guardians are the best advocates for their child's education. To learn more, attend our Parent Talks and Parent Workshop events.
CREEED provides parents with in-person and virtual events to discuss the opportunities and challenges they see within their schools. Topics discussed include all areas of student performance and success, including school academic performance, parent outreach, afterschool programs, counseling and mental health services, applying for college and financial aid, and much more.
With different topics for each Parent Talk, parents have the ability to discuss with other parents what they are seeing at their child's school, what is working, and where they feel they need help changing what is not working. Through in-depth bilingual conversations, our Parent Talks identify opportunities for working together and areas of opportunity or concern within the school system or individual schools.
To fully prepare parents with the information and tools necessary to advocate for their child's education, CREEED offers Parent Workshops that inform parents about broader education topics. Through presentations from education and community leaders, parents learn about resources and support opportunities that provide greater accountability, increased equity for all students, and a focus on overall student performance.
CREEED Parent Education Leadership Fellowship
To create informed parent advocates and build a network of parent leaders, CREEED offers a Parent Leadership Fellowship that empowers engaged parents and trains them to help other parents navigate their school systems.
Nobody knows students better than their parents, and by engaging parents in co-designing solutions that improve educational outcomes, CREEED helps set up all students for success.
Join us for the next fellowship cohort to learn how you can advocate for improving educational attainment in El Paso and ensuring all students are on a path to success in obtaining post-secondary degrees or certifications.
collaborating on education
CREEED works with educational and community organizations from across the region to provide knowledge on topics that help parents and community leaders understand the ins and outs of the education system and the support systems in place.
CREEED's Parent and Community Engagement efforts include facilitating focus groups and workshops that listen, inform and engage parents from the Borderplex region to discuss educational issues and opportunities.
CREEED's partners in these efforts include the Boys and Girls Club of El Paso, El Paso Community College, the UTEP Financial Aid Office, the UTEP Center for Community Engagement, Project Vida, Headstart Region 19, UTEP College of Education professor Dr. Elena Izquierdo, United Way of El Paso County, Project Arriba, and the YWCA.
Additionally, CREEED continues to engage elected officials, rotary groups, neighborhood associations, parent groups, and other non-education-based entities to build relationships, identify opportunities to expand support, and advocate for increasing student performance and equity for all students.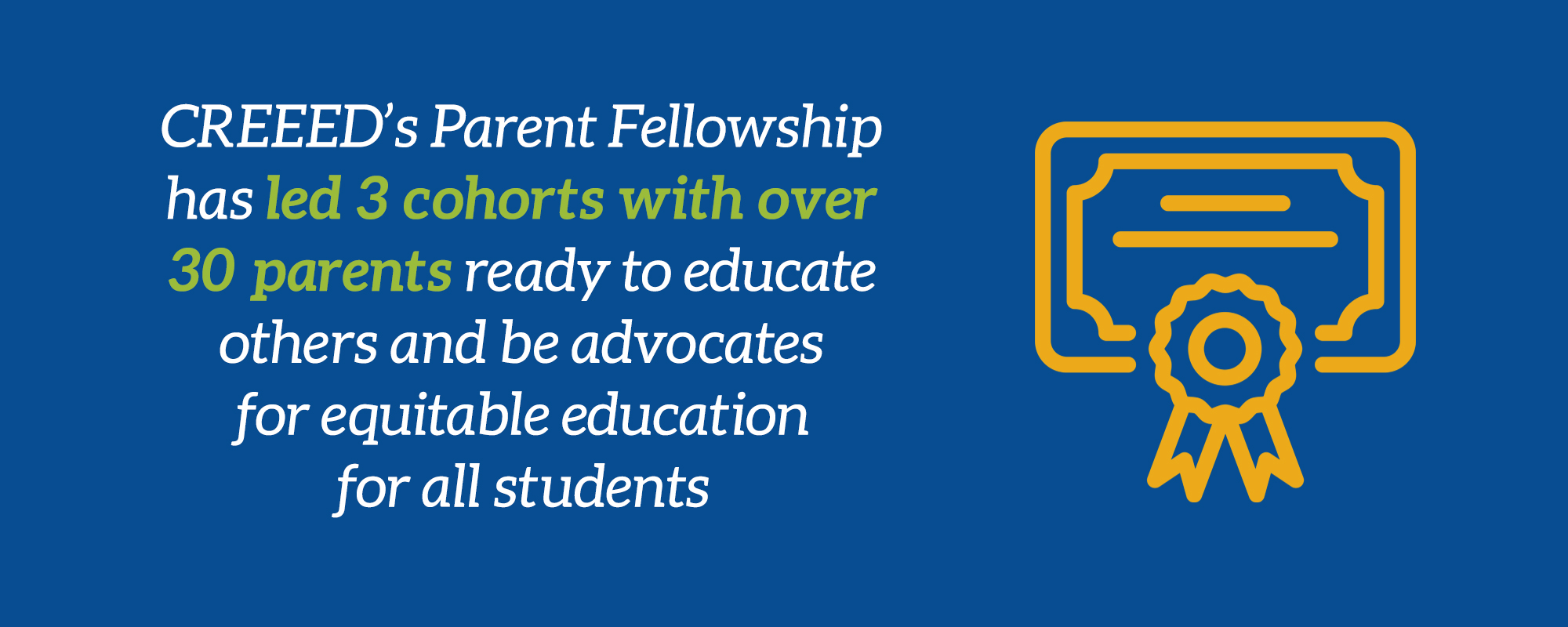 Contact us to learn more about CREEED's parent engagements initiatives or to support our efforts.
Newsletter Sign Up
To stay informed on CREEED's efforts, sign up for our updates.